Special Issue (Educational Technology in English Language)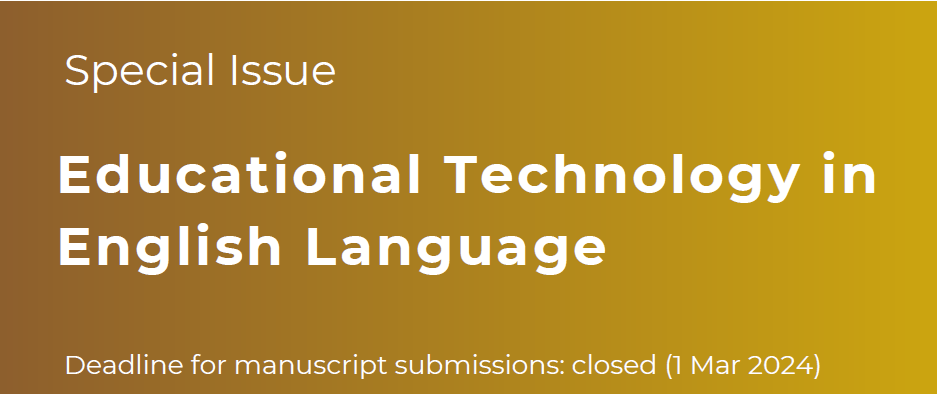 Source: Refaad
Date: 2/10/2023
2657
Objectives:
Technology has become critical to learning inside and outside the classroom. Most language classes use technology in some kind. The special issue highlights the latest research on Educational Technology (ET) used by teachers, students, and curriculum. It will provide a comprehensive overview of the theoretical foundations, numerical methods, and application of ET used in teaching/learning English.
Topics:
· Educational Technology in Teaching and Learning
· Educational Technology tools/applications
· Educational Technology in the classrooms and higher education
· Educational Technology integration and Leadership
· Educational Technology theory
· Educational Technology Society
· Educational Technology Innovations
· Educational Technology policy and decision making
Guest Editors:
Dr. Radzuwan Ab Rashid (Faculty of Languages and Communication, Universiti Sultan Zainal Abidin Terengganu, Malaysia).
Dr. Nabil Belmekki (The Higher School of Technology-Moulay Ismail University, Meknes Morocco).
Dr. Khaleel Al Bataineh (Faculty of Arts and Sciences, Petra University, Jordan).
Submissions Information:
Manuscripts along with annexes thereto are sent to the journal via journal online submission or via journal email (editorbaes@refaad.com).
Note: Please specify the title of the special issue (Educational Technology in English Language) in the subject if you submit by Email or in the cover letter if you submit online.
Closed (1 Mar 2024)
The author must follow the publication guidelines as the following:
https://www.refaad.com/Journal/AuthorGuide/5
The Article Processing Charge (APC): 50$ (50% discount on the journal's publishing fees).
Contact Information:
E-mail: editorbaes@refaad.com
WhatsApp No.: (+962) 7 7057 8271
Special Issue Flyer: (Click Here)